Submitted by

drumin

on Fri, 2012/02/10 - 12:58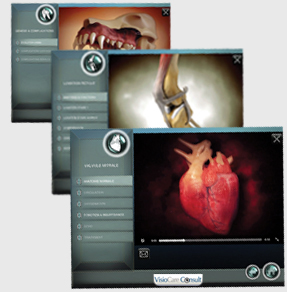 FEATURES
- Great-looking, high quality content makes it easy for your clients to understand their pets' health and wellness issues
- A large library of animations and videos (currently over 950 animations) — supplemented by frequent updates
- All content is overseen and reviewed by Board Certified specialists
- Content covers routine wellness information as well as condition-specific topics
- Simple and intuitive to use
- Non intrusive: the animations are silent, they reinforce your recommendations.
- Save time while you remain in control
- Enhances client communication & education within the exam room or at the reception desk
- Email animations directly to your clients
- Surprisingly affordable (starting at less than $60/ month/ license)
- Multi-user subscriptions available
BENEFITS
- Improves
clients' understanding of their pets' wellness issues
- Enhances
client compliance
- Boosts
practice's image: this state of the art tool will impress your clients
- Replaces
Old fashion tools that are obsolete
"One-stop shop" for compelling multimedia eliminates need for you to search for educational material
- Fun
for you and your team to use and for your clients to watch
CATS & DOGS MODULE
Initial library includes the following topics & disorders:
- Osteo-Articular
- Cardiovascular health
- Ear
- Eye
- Mouth
- Anal region
- Vertebral
- Vaccines,
- External parasites,
- Internal parasites,
- Pet Identification,
- Pet Insurance,
- Annual checkup
- Skin conditions
- Nutrition
- Comportement
- Gastrointestinal
- Urinary
- Genital
- Pulmonary
- Infectious
- Endocrine
- Ganglia and Lymphatic
And others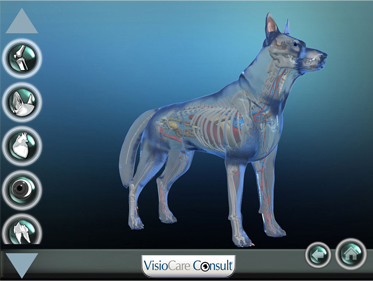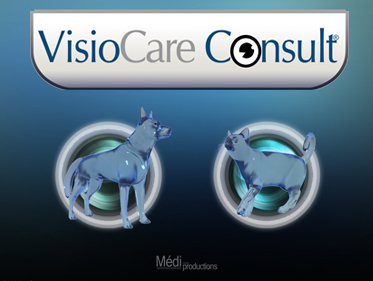 TESTIMONIALS
"In my experience, this is the greatest client compliance tool that I have seen in my 44 years of being a veterinarian."
- Dr. Lloyd Meisels, Coral Springs Animal Hospital
"Its been great - Clients love it when you can give them such a 3 Dimensional visual aid"
- Dr Brad Lingenfelter, Apus Veterinary Hospital
"Clients love it- and I can explain diagnosis and procedures better…"
- Dr Carlos Mongil-Cevet, San Juan
"We utilize it a lot- it is a great communication tool…"
- Dr Peter Brown, Chuckanut Valley Veterinary Clinic
"We have been using the VisioCare Consult application for several months already. Our clients are immediately "impressed" and appreciate the technology as much as the visual aid. Our recommendation is better understood... and therefore better adopted!"
- Dr Nicholas Manwaring, practitioner in a mixed practice in Sisteron, in France
"We have installed the VisioCare Consult program in all 8 exam rooms of our hospital since June 2012. Not only the majority of the vets use the service, but they use it more and more, as content also is evolving with time. Our orthopedic surgeon is using it all the time… We like the animations, which are simply amazing, but most of all we appreciate the format (short and with no text or sound) and the fact we remain in charge of the message itself. This is simply because each of us has a different way of explaining diagnosis & treatment… and the email message directly sent to client with the animation is a great feature!... to summarize, a great and innovative product that vets and their staff should use for sure!"
- Dr Peter Glassman Owner and manager of Friendship Hospital for Animals in Washington DC
"I love this program. It helps me engage the client in what is going on with their pet and it generates interest on what we need to do next. I get more accomplished in less time when my clients can "see" and understand."
- Thomas Fatora DVM, Frisco Animal Hospital , Colorado
"VCC is an easy and effective tool that we use in our clinic every day. It has allowed us to better educate our clients and have them see more value in the treatment plans we are suggesting. The doctors and staff enjoy using it through the clinic-simple, brief and very visual(wow factor) for our clients. It has helped eliminate the clutter of the various models and displays that we use to use. VCC is updated and improved regularly giving us more and more information to work with. I would recommend it to anyone"
- Dave Clegg DVM LIVERPOOL ANIMAL HEALTH CLINIC in NY
"It was very easy to implement and after purchasing the program, we immediately started using it throughout the day.It is much easier to show the value of our treatments, and justify our prices, when clients can easily visualize what we are talking about."
- Jonathan of Country Veterinary Clinic, P.C in Ludington, MI
" The VisioCare Consult makes explaining various subjects to our clients much easier. Clients can actually see what we are talking about rather than using a very poorly drawn picture. It has also been helpful for our staff training."
- Dena Ladd KEWEENAW VETERINARY CLINIC in Pelkie Michigan
"My favorite animations are the Cruciate Ligament surgery animations. Explaining the surgery to a client is never easy, and being able to show what goes into the procedure helps the client understand the cost, and ultimately increases compliance."
- Melissa Smith Lake Worth Animal Clinic in Fort Worth Texas
For full screen, hover over the video and click on

- Dr.Andrew from Town and County Animal Hospital in Portland Oregon

Web version
The web based platform is available "on line" and offers prices that decrease with the number of licenses (users).

iPad™version
The iPad™ version enables you to provide a one-on-one service, allows you to be mobile and in direct contact with your client.. This is a high-tech tool to use anywhere inside or outside your premises – no Internet connection is necessary.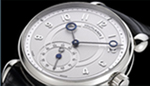 The Content
Canine and feline modules include comprehensive libraries enhanced with regularly scheduled updates. (Equine and other modules coming soon).

Diagnostic illustration
Use 3-D animations and video to illustrate therapeutic options. VisioCare Consult provides the visual graphics while you provide the verbal explanations that you feel most appropriate for your particular client. Email animations directly to the client to review with family members.

Save time
VisioCare Consult is a value-added service for your practice that helps make it easy for you to increase client compliance through education